Image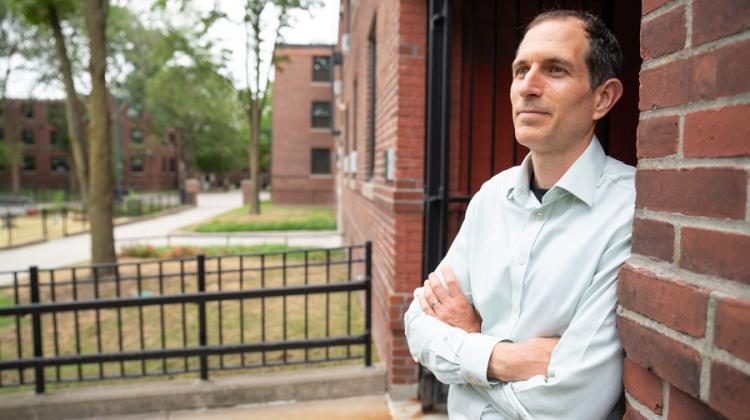 Published
August 31, 2022
Source
https://news.mit.edu/2022/justin-steil-housing-0814
Think about almost any locale where people live: Why does it have its current built form? Why do people reside where they do? No doubt there are quirks of geography or history involved. But places are also shaped by money, politics, and the law — in short, by power.
Studying those issues is the work of Justin Steil, an associate professor in MIT's Department of Urban Studies and Planning. Steil's research largely focuses on cities, drawing out the ways that politics and the law sustain social divisions on the ground.
Or, as Steil says, "The biggest theme that runs through my work is: How is power exercised through control of space, and access to particular places? What are the spatial and social and legal processes of inclusion and exclusion that generate or can address inequality, generally?"
Those mechanisms can be found all around. Wealthy suburbs with large minimum lot sizes restrict growth and access to high-ranking school districts; gated communities take that process of separation even more literally; and many U.S. metro areas have island-like jurisdictions that have seceded from larger surrounding cities. City residential geography often displays the legacies of redlining (discrimination laws) and even century-old mob violence incidents used to curb integration.
"I really like to try to get down to pinpoint what are the precise laws, ordinances, and policies, and specific social processes, which continue to generate inequality," says Steil. "And ask: How can we change that to generate greater access to resources and opportunities?"
While investigating questions that range widely across the theme of power and space, Steil has published many research articles and book chapters while helping edit volumes on the subject. For his research and teaching, Steil was awarded tenure at MIT earlier this year.
Combining law and urban planning
Steil grew up in New York City, where his surroundings helped him realize how much urban policy and laws matters. He attended Harvard University as an undergraduate, majored in African American Studies, and spent a summer as a student in South Africa in 1998, just as the country was launching its new democracy.
"That had a big impact," Steil says. "Both seeing the power of grassroots organizing and social movements, to overthrow this white supremacist government, but also to understand how the apartheid system had worked, the role of law and of space — how the landscape and built environment had been consciously designed to keep people separate and unequal."
Between graduating from college and finishing his PhD, Steil embarked on an odyssey of jobs in the nonprofit sector and graduate work on multiple academic disciplines, touching on pressing social topics. Steil worked at the City School in Boston, a youth leadership program; the Food Project, a Massachusetts agricultural program; two nonprofits in Juarez, Mexico, focused on preventing domestic violence and on environmental justice; and the New Economy Project in New York, studying predatory lending. In the midst of this, Steil took time to earn a master's in city design and social science from the London School of Economics.
"I learned so much from studying city design, and really enjoyed it," Steil says of that program. "But I also realized that my personal strengths are not in design. … I was more interested and more capable in the social science realm."
With that in mind, Steil was accepted into a joint PhD and JD program at Columbia University, combining a law degree with doctoral studies in urban planning.
"So much of urban planning is determined by law, by property law and constitutional law," Steil says. "I felt that if I wanted to research and teach these things, I needed to understand the law."
After finishing his law school and doctoral courses, Steil's dissertation, written under the guidance of the late Peter Marcuse, examined the policy responses of two sets of paired towns — two in Nebraska, two in Pennsylvania — to immigration. In each of the states, one town was far more receptive to immigrants than the other. Steil concluded that the immigration-receptive towns had more local organizations and civic connections that reached across economic classes; instead of being more atomized, they were more cohesive socially, and willing to create more economic opportunities for those willing to work for them.
Without such ties, Steil notes, people can end up "seeing things as a zero-sum game, instead of seeing the possibilities for new residents to enliven and enrich and contribute to a community."
By contrast, he adds, "sustained collaboration across what people might have seen as differences toward a shared goal created opportunities for a dialogue about immigration, its challenges and benefits, to imagine a future that could include these new neighbors. There was an emphasis in some of those towns on being communities where people were proud of working hard, and respected other people who did that."
From PhD to EMT
Steil joined the MIT faculty after completing his PhD in 2015, and has continued to produce work on an array of issues about policy, law, and inclusion. Some of that work bears directly on contemporary housing policy. With Nicholas Kelly PhD '21, Lawrence Vale, the Ford Professor of Urban Design and Planning at MIT, and Maia Woluchem MCP '19, he co-edited the volume Furthering Fair Housing (Temple University Press, 2021), which analyzes recent political clashes over federal fair-housing policy.
Some of Steil's other work is more historically oriented. He has published multiple papers on race and housing in the early 20th century, when both violence against Blacks and race-based laws kept many cities segregated. As Steil notes, U.S. laws have been rewritten so as to be no longer explicitly race-based. However, he notes, "That legacy, entrenched into the built environment, is very durable."
There are also significant effects stemming from the local, property-tax-based system of funding education in the U.S., another policy approach that effectively leaves many Americans living in very different realms of metro areas.
"By fragmenting [funding] at the local level and then having resources redistributed within these small jurisdictions, it creates powerful incentives for wealthy households and individuals to use land-use law and other law to exclude people," Steil says. "That's partly why we have this tremendous crisis of housing affordability today, as well as deep inequalities in educational opportunities."
Since arriving at MIT, Steil has also taught on these topics extensively. The undergraduate classes he teaches include an introduction to housing and community development, a course on land use and civil rights law, another course on land use and environmental law, and one on environmental justice.
"What an amazing privilege it is to be here at MIT, and learn every day, from our students, our undergraduate and graduate students, and from my colleagues," Steil says. "It makes it fun to be here."
As if Steil didn't have enough on his plate, he takes part in still another MIT-based activity: For the last few years, he has worked as an Emergency Medical Technician (EMT) for MIT's volunteer corps, having received his training from MIT's EMT students since arriving on campus.
As Steil describes it, his volunteer work has been a process of "starting out at the bottom of the totem pole as a beginning EMT and being trained by other students and progressing with my classmates."
It is "amazing," he adds, to work with students and see "their dedication to this service and to MIT and to Cambridge and Boston, how hard they work and how capable they are, and what a strong community gets formed through that."