Leveraging Art and Storytelling to Reinterpret a Location of Crisis
Image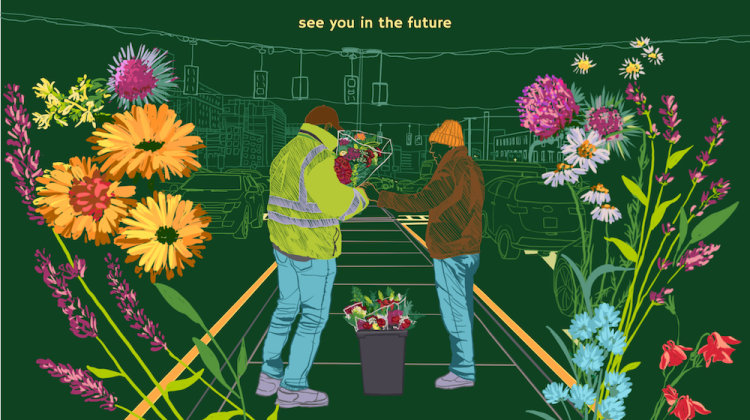 Published
February 22, 2023
Located at and around the intersection of Melnea Cass Boulevard and Massachusetts Avenue in Boston, "Mass and Cass" has been described as the Greater Boston region's "epicenter" of addiction, homelessness, and mental health illness. Building on years of lived and work experience, a team led by DUSP's Melissa Teng, as well as Stephen Walter, Sabrina Dorsainvil, and George Halfkenny aims to amplify the lived experiences, care practices, and design wisdom of our street-based neighbors and workers through storytelling and reactivating an anchor space, the Engagement Center. Their work continues the co-design work led by Dorsainvil and Walter, who helped design, launch, and program the original Engagement Center pilot as City of Boston employees. As a hypervisible yet poorly understood place, the team hopes their storytelling work can counter the Mass and Cass's crisis narrative that discounts its communities' civic agency. By bringing arts programming and a revolving set of curators to the Engagement Center, they will support building creative capacity and experiment with healing and just architectures. 
Their project, See You in the Future, was recently awarded a Public Art for Spatial Justice grant from the New England Foundation of the Arts (NEFA) to support the storytelling around and creation of a space designed around trust and voice. "When the narrative of this area became a singular story of crisis, it shrunk the public imagination with fear and hopelessness, which led to more policing and enclosure of public spaces. We just want to recenter and lift up the culture of care in these communities that has always been here," said Teng. "So much of what we're trying to do starts with being present to existing relationships and creative spatial solutions on the ground. In reactivating persistent programming at the Engagement Center with guests, we want to work towards a dialogue with policymakers that starts with a more honest conversation about Mass and Cass and, more broadly, where the crisis really is."
Learn more about See You in the Future Collective and other NEFA Massachusetts Artists and Communities Advance Spatial Justice grant award winners.
This project is also supported by the MIT Priscilla King Gray Public Service Center, the Sasaki Foundation's Design Grant, the Collective Futures Fund led by Tufts University Art Galleries, and a Mel King Thesis Fellowship through the Kresge Foundation.