Under Secretary and Senior Divisional Engineer at Ministry of Urban Development in Government of Nepal. Responsible for planning, design, and implementation of buildings, housing, and urban development-related works, including implementation of earthquake emergency housing reconstruction projects, retrofitting of heritage buildings, and other government building construction projects. Was a consultant for rural road projects funded by The World Bank and Asian Development Bank before joining civil service with responsibility for planning, design and implementation of school infrastructure and earthquake reconstruction projects.
Holds a bachelor's degree in Civil Engineering and a Master of Science in Structural Engineering from Tribhuvan University. 
At MIT, focused on earthquake-resilient housing technologies and their effective implementation in earthquake-prone countries like Nepal.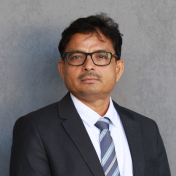 Contact
Write me
jhappers@mit.edu