Inclusive Development Specialist at Data4HumanRights, where she develops training materials for community data collectors and trains them in basic research, thereby enabling communities to apply data to advocacy and guide development beyond what external agencies set out. Previously worked in architecture and research to understand cities and find meaningful ways to improve them. Member of the Just City Working Group striving to improve Kenyan cities for all. 
Holds a Bachelor of Architecture from University of Nairobi and a Master of Science in Urban Management and Development from the Institute for Housing and Development Studies at Erasmus University Rotterdam. 
During the MIT fellowship, aims to explore the ways in which spatial data and technology can foster more equitable cities.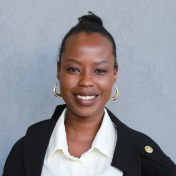 Contact
Write me
dwakonyo@mit.edu