Architect and Accessible Design Consultant in Nepal. Works with built- environment teams to ensure the needs of people with diverse abilities and age are appropriately integrated in design space in Nepal, and conducts training and workshops on accessible design for architects, engineers and policy makers in Nepal. Was previously an accessibility consultant for the World Bank Group Nepal's Earthquake Housing Reconstruction Project where he was responsible for ensuring that homes are fully accessible for people with disabilities. Prior work includes experience with World Bank Group Nepal, CBM Nepal, British Councils, and local organizations. 
Holds a Bachelor's degree in Architecture from Tribhuvan University of Nepal.
At MIT, as an architect with a disability, particularly interested in how Disabled People Organizations (DPOs) and other stakeholders can effectively collaborate with urban planners in designing and implementing accessible cities.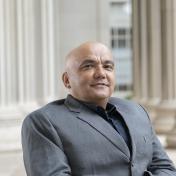 Contact
Write me
deepakkc@mit.edu