Curb to Kitchen: Autonomous Mobility Meets Universal Design for a New City
Image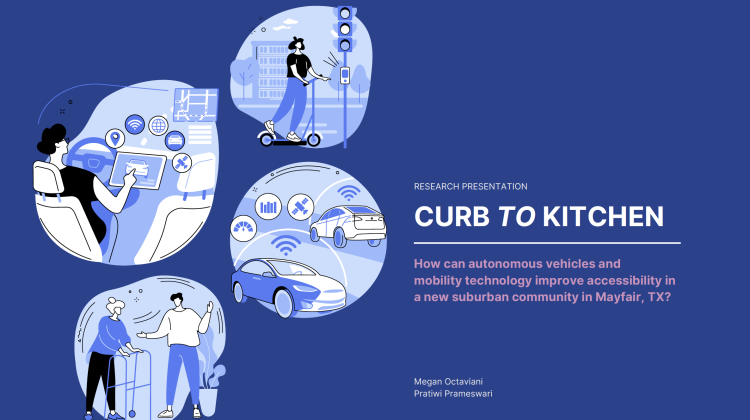 Academics and industry leaders acknowledge that technology alone will not solve the transition to autonomous mobility. Urban design and land use modifications will be required for the people who will use these technologies. Resolving these planning and design challenges will be especially important for those with disabilities, and the aging population. To date, most local code and the Americans with Disabilities Act (ADA) have not been modified for the autonomous mobility transition. This is an especially important concern considering that one out of every five people in the US has a disability – many of whom rely on modes of transportation that were not specifically designed for their needs. The county's population is also becoming increasingly older with the number of Americans over 65 expected to increase by more than 50 percent by 2040. Furthermore, studies show that those who are poorly served by current transportation systems — particularly in areas outside the reach of urban transit networks — may have the most to gain from fully autonomous/driverless mobility adoption. There has been very little research at the intersection of autonomous mobility transition and urban design to establish best practices with a focus on these most vulnerable mobility-challenged users.
The practicum explored the "Curb-to-Kitchen" concept being developed by Alan Berger in collaboration with the Toyota Mobility Foundation (TMF), which is focused on how autonomous mobility (including micromobility and delivery) can seamlessly transition to serve the disabled, elderly, aging in place population, across multiple land use configurations. The site for the practicum is within the City of New Braunfels, TX and is being developed by Southstar Communities to ultimately contain 50,000 new homes, mixed use commercial district, schools, retail, light industrial, and a vast amount of parks and trails connecting the development together.
This practicum utilized land use code (for a variety of land use types) and advance community design, urban design, streetscape, and building features to meet the requirements of disabled, elderly, and other mobility-challenged autonomous vehicle users. 
Participants included: Alexander Boccon-Gibod, Mikaela Strech, John Devine, David Hong, MinJi Kim, Keiko Yabe,  Megan Octaviani, Pratiwi Prameswari