Responsible Disruptors Making an Impact in Tech
Image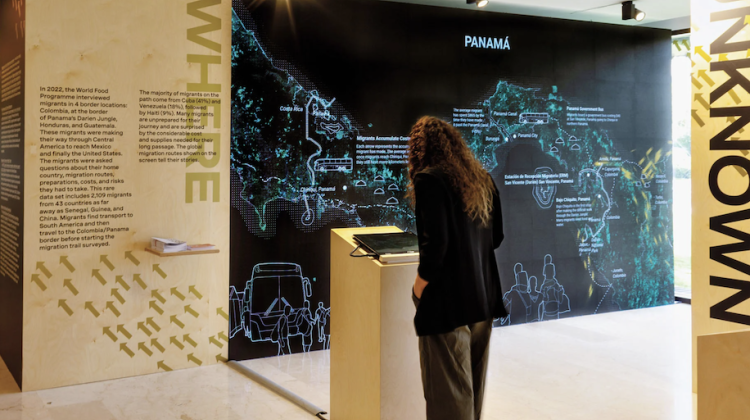 Source
https://metropolismag.com/projects/civic-data-design-lab-mit-responsible-disruptors/
"At a distance, the Motivational Tapestry at the Massachusetts Institute of Technology's Civic Data Design Lab (CDDL) might be mistaken for a decorative work of art. The multicolored, woven piece spans 15 by 8 feet and is arresting to the eye owing to the intricate folds composing its surface. However, closer inspection reveals its patterns of paper 'currency' folded by Latin American migrants and printed with information about migration. Based on a data set of 1,624 individuals in El Salvador, Guatemala, and Honduras taken from a United Nations World Food Programme (WFP) survey in 2021, the currency is color-coded to represent individual migrants' motivations for undertaking the arduous journey from Central America to the United States," writes Erin Langner for Metropolis. "Pieces of the tapestry can also be digitally scanned to reveal more details about individual migrants' lives, showcasing the deep layers of the data in ways that allow its human facets to surface."
The Motivational Tapestry is an element in the exhibition and website Distance Unknown,  a project developed in collaboration with CDDL, the WFP and the Migration Policy Institute.  Distance Unknown seeks to communicate the causes of migration through interactive, human-centered design. "In the data, we found that migrants spend $2.2 billion collectively to migrate from Central America to the U.S.," explains Ashley Louie, CDDL research associate. "Figuring out a way to visualize this information allows you to dive into the heart of migration motivations, such as the cost implications and the more complex issues that surround this topic beyond just a simple flow of people."
Distance Unknown is a winner of Metropolis's second-annual Responsible Disruptors program, read more via Erin Langner's coverage, here.