New Horizons for More Socially Responsible Work
Image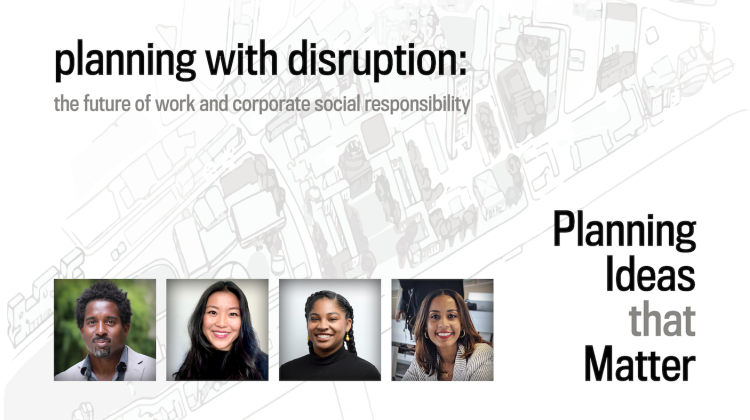 Great resignation, working remotely, essential work and essential workers - the landscape of employment, labor, economics, and finance shifted dramatically during the COVID 19 pandemic. Seen through that lens, what might we infer about trajectory of the future of work?
Guests Jason Jackson (PhD '13) and Carolyn Weng Yang (MCP '20) join hosts Tiffany Ferguson (MCP '18) and Samra Lakew (MCP '20) to discuss the historical foundations that scaffolded into new workplace trajectories during the pandemic and what these trends imply about the future.
Jackson is the Ford Career Development Associate Professor in Political Economy and Urban Planning in the Department of Urban Studies and Planning. His research focuses on the relationship between states and markets. It seeks to understand the historical origins and evolution of the institutional arrangements through which states and markets are constituted from the late 19th century to the present.
Yang is the Corporate Practice Manager for TechEquity Collaborative. Carolyn's approach to partnerships draws from being a practitioner, researcher, and entrepreneur. These experiences include project-managing a neighborhood commercial revitalization plan in New Orleans, building an emerging artist discovery platform for public art projects, and creating a roadmap for equitable recovery in a post-COVID Boston.
Season two of the Planning Ideas that Matter (PITM) podcast examines how the global COVID-19 pandemic has re-shaped the field of urban planning, changed our thinking about interventions, and what ought to be? Members of the Department of Urban Studies and Planning (DUSP) faculty as well as MIT alumnae/i who work in specific domains of urban planning join our alumnae hosts to explore.
PITM is produced by DUSP and Dave Lishansky of David Benjamin Sound through the generous support from Bemis Funding and Dean of the MIT School of Architecture and Planning, Hashim Sarkis.