More Just and Sustainable Infrastructure
Image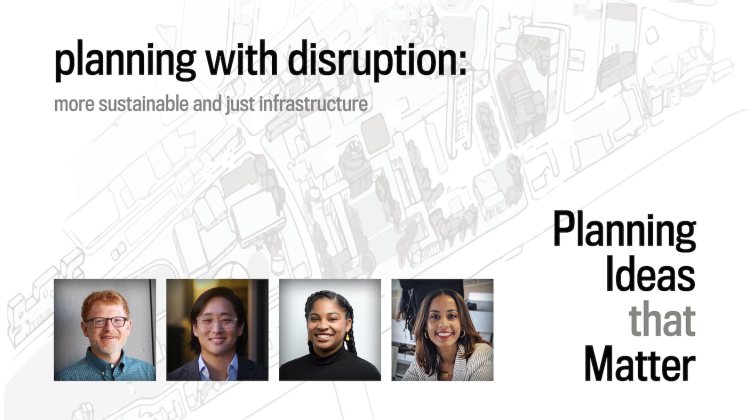 How could funds and opportunities created through the Bipartisan Infrastructure Deal help rebuild and strengthen existing infrastructure for a more sustainable and just future? How will the impacts of the pandemic change how we plan and utilize downtowns?
Guests Jeff Levine and Chris Rhie (MCP '14, SM '14) join hosts Tiffany Ferguson (MCP '18) and Samra Lakew (MCP '20) to discuss the implementation of the Bipartisan Infrastructure Deal.
Levine, AICP, has been involved with land use planning on the local and regional level for 25 years. He is interested in how to apply best practices in theory and research in local municipal settings. His research interests are in the areas where public finance, private equity, and land use planning intersect, as well as how transportation, housing and sustainability interact in small- to mid-sized cities and regions.
Rhie is an urban sustainability consultant and former Associate Principal at Buro Happold. His professional experiences include "the world's first local climate action plan aligned with the Paris Agreement, the boldest and most inclusive regional sustainability plan in the nation, and New York City's forthcoming environmental justice report."
Season two of the Planning Ideas that Matter (PITM) podcast examines how the global COVID-19 pandemic has re-shaped the field of urban planning, changed our thinking about interventions, and what ought to be? Members of the Department of Urban Studies and Planning (DUSP) faculty as well as MIT alumnae/i who work in specific domains of urban planning join our alumnae hosts to explore.
PITM is produced by DUSP and Dave Lishansky of David Benjamin Sound through the generous support from Bemis Funding and Dean of the MIT School of Architecture and Planning, Hashim Sarkis.