Greater Impact, Transparency, and Trust Through Open Data
Image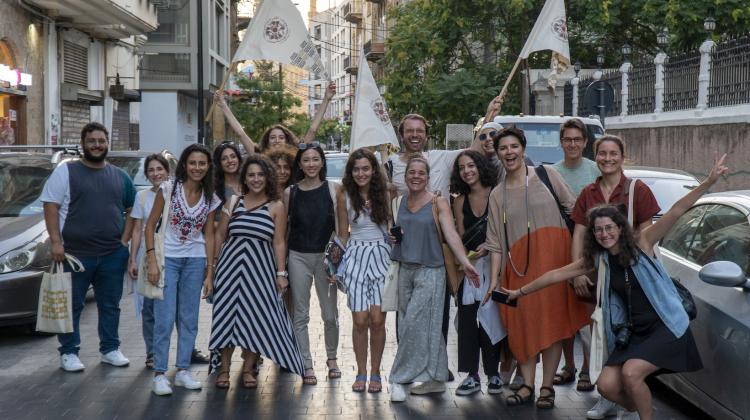 Published
December 23, 2022
At the inaugural MIT Prize for Open Data, DUSP's Carmelo Ignaccolo - with team members Daniella Maamari, Ashley Louie, Sarah Williams, and Azra Aksamija - was recognized with an honorable mention for their ongoing efforts to understand and visualize Beirut's living heritage of craftsmanship.
Living Heritage Atlas | Beirut is a design-based research project that documents and maps Beirut's living heritage of craftsmanship — through its craftspeople, public spaces, and local knowledge. The project was developed by the Civic Data Design Lab (CDDL) and Future Heritage Lab (FHL), and it is supported by Dar Group. Living Heritage Atlas | Beirut recognizes that craftspeople are an exponentially marginalized and vulnerable group of individuals, operating at the intersection of heritage, the infrastructure of making, and the local economy at different urban scales.
This project seemingly bridges the digital to the physical by advancing three key interventions:
It constructs a digital archive of geolocated historic data and images using visual and textual materials from local archives, residents, and craftspeople. Data is open-access and available to download via the project website.
It implements a series of small neighborhood-wide interventions by disseminating site-specific street stickers and physical signages that connect physical spaces in contemporary Beirut to the historic images available on the Living Heritage Atlas | Beirut digital archive
It connects stakeholders working on the topic of craftsmanship through community meetings, participatory mapping workshops, and share-your-story events on the spaces and history of craftsmanship in Beirut
The MIT Prize for Open Data, presented by the MIT School of Science and the MIT Libraries, highlights the value of open data and seeks to inspire the next generation of researchers across the Institute. Learn more about the Open Data Awards via Brigham Fay's MIT News coverage
MIT CDDL works with data to understand it for public good. Researchers at the lab seek to develop alternative practices which can make work with data and images richer, more relevant, and more responsive to the needs and interests of citizens traditionally on the margins of policy development. Their methods borrow from the traditions of science and design by using spatial analytics to expose patterns and communicating those results, through design, to new audiences.
MIT FHL invents creative responses to conflict and crisis. The lab develops and implements projects and alternative educational formats at the intersection of art, culture, and preservation technology to address the emotional, cultural, and practical needs of communities in threat. Building on experience in art, design, and cultural preservation with expertise at MIT in new technologies, FHL researchers collaborate to build future heritage by creating cultural projects on a civic scale that translate traditional crafts into new technologies, advance knowledge transfer across borders, and have a positive impact on threatened communities.
Learn more about the Living Heritage Atlas via the project website