Living Heritage Atlas | Beirut
Image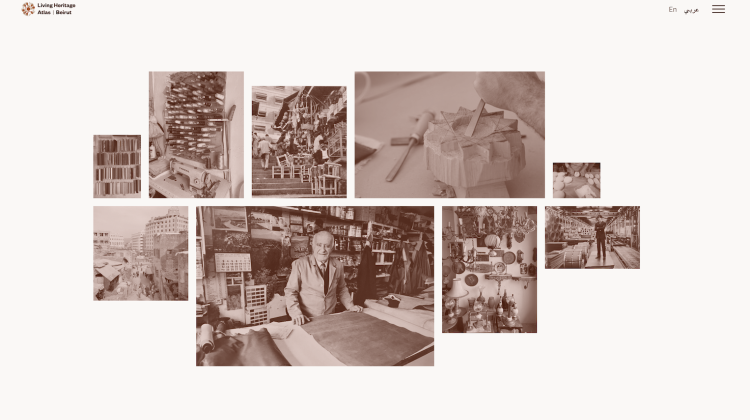 Living Heritage Atlas | Beirut is a design-based research project that contributes to the urban planning discussion on Beirut's heritage by rendering visible the often unrecognized living heritage of craftsmanship — with its crafts, public spaces, and local knowledge.
This project has been developed by the Massachusetts Institute of Technology (MIT) Civic Data Design Lab (CDDL) and Future Heritage Lab (FHL), and it is supported by Dar Group. Living Heritage Atlas | Beirut recognizes that craftspeople are an exponentially marginalized and vulnerable group of individuals, operating at the intersection of heritage, the infrastructure of making, and the local economy at different urban scales.
This project seemingly bridges the digital to the physical by advancing three key interventions:
It constructs a digital archive of geolocated historic data and images using visual and textual materials from local archives, residents, and craftspeople. Data is open-access and available to download at: http://livingheritage.mit.edu/download
It implements a series of small neighborhood-wide interventions by disseminating site-specific street stickers and physical signages that connect physical spaces in contemporary Beirut to the historic images available on the Living Heritage Atlas | Beirut digital archive
It connects stakeholders working on the topic of craftsmanship through community meetings, participatory mapping workshops, and share-your-story events on the spaces and history of craftsmanship in Beirut
Living Heritage Atlas | Beirut's leadership team includes: ​​Sarah Williams, Azra Aksamija, Carmelo Ignaccolo, Daniella Maamari, and Ashley Louie.
Additional team members include: Sarine Agopian, Ramzi Alieh, Ahmad Beydoun, Racha Doughman, Reem Farhat, Kamila El Khechen, Raafat Majzoub, Reem Obeid, Rasha Zayour, Fatima Moussa, Enrique Casillas, Gatlen Culp, Doris Duanmu, Kelly Fang, Huiwen Shi, Wesley Woo, Rasha Zayour, and Sophia Zheng.