DUSPx DC celebrates DUSP community and impact
Image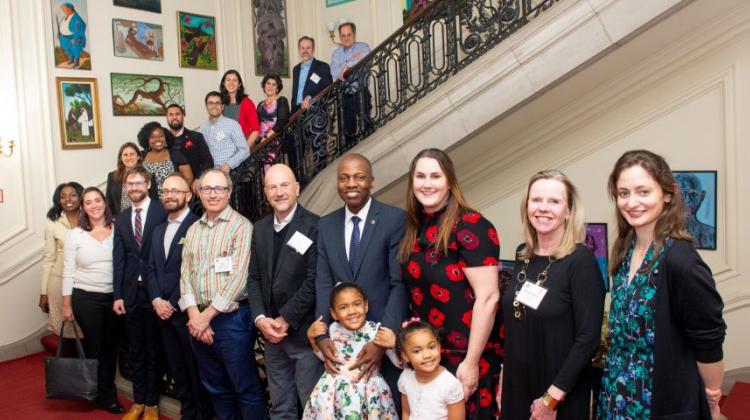 On February 14th 2019 – Valentine's Day—members of the DUSP alumni/ae community gathered in Washington D.C. to celebrate a different kind of love; their love of the MIT community as well as sharing their ideas and work. DUSPx: MIT Connections was the sixth in a series of annual 'DUSPx' events that support, grow, and promote connections among DUSP alumni as well as with the current DUSP students and faculty.
The event was hosted by Ambassador and DUSP alumnus, Paul Altidor (SM '04), DUSP alumna Meghan Altidor (MCP '04), and their two daughters at the Embassy of the Republic of Haiti. Emceed by current PhD candidates Madeleine Daepp and Jeffrey Rosenblum, the evening began with a welcome from Ambassador Altidor, who expressed his thanks to the department for its role at the genesis of his career and encouraged the department to continue to engage with the world and push for positive social change.
"We are so appreciative of Paul and Meghan's long-term commitment to the DUSP community," said Eran Ben-Joseph, Department Head. "Their connection to DUSP is representative of the strong and enduring bonds that are formed while studying at MIT."
Ben-Joseph followed Ambassador Altidor's opening remarks by presenting new initiatives, research, and developments in the Department. Amongst the many updates Ben-Joseph highlighted the nascent 11-6 undergraduate major in Urban Science and Planning with Computer Science. The new collaboration with Electrical Engineering and Computer Science provides a foundation for undergraduate students to work in applied computation, data analytics, public policy, economic development, urban design, management, and planning.
The evening featured three-minute "lightning" talks given by alumni/ae, highlighting key elements of their work. From the planning and design of the new Amazon HQ and adjacent neighborhoods in Virginia, to a new novel use of satellite data to measure and map land use change, to innovative joint community and police engagement in Baltimore— the presentations demonstrated the depth and breadth of DUSP alumni's impact on the world.
"DUSPx events are an opportunity to reconnect, share, and learn from an amazing DUSP alumni community," said Mary Jane Daly (MCP '83), DUSP Professional Development Director, and organizer of the event. "This year's event coincided with Valentine's Day and we were reminded - through friendships, couples who met at DUSP, and new alumni couples - that DUSP is more than a professional or an academic community."   
Alumni/ae speakers included Tracy Sayegh Gabriel (MCP '04), Andrew Trueblood (MCP '09), Andrew Reamer (MCP '81 and PHD '87), Sunaree Marshall (MCP '10), Matthew Totilo (MCP '09), Tamika Gauvin (MCP '14), Leanne Farrell (MCP '10), William Chin (SB '11), Nadine Alameh (MCP '97 and PHD '01), Dalia Leven (MCP and MST '06), Mike Crow (MCP '99), and Keren Carla Charles (MCP '12).
If you were not able to attend in person, stay tuned to the DUSP Social Media channels, where over the coming months we will be releasing short videos of the presentations.