Driving Toward Data Justice
Image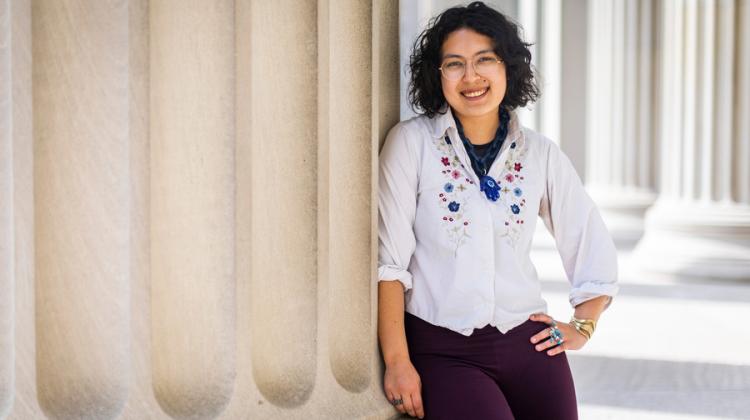 Source
https://news.mit.edu/2023/amelia-dogan-driving-toward-data-justice-0426
As a person with a mixed-race background who has lived in four different cities, Amelia Dogan describes her early life as "growing up in a lot of in-betweens." Now an MIT senior, she continues to link different perspectives together, working at the intersection of urban planning, computer science, and social justice.
Dogan was born in Canada but spent her high school years in Philadelphia, where she developed a strong affinity for the city.  
"I love Philadelphia to death," says Dogan. "It's my favorite place in the world. The energy in the city is amazing — I'm so sad I wasn't there for the Super Bowl this year — but it is a city with really big disparities. That drives me to do the research that I do and shapes the things that I care about."
Dogan is double-majoring in urban science and planning with computer science and in American studies. She decided on the former after participating in the pre-orientation program offered by the Department of Urban Studies and Planning, which provides an introduction to both the department and the city of Boston. She followed that up with a UROP research project with the West Philadelphia Landscape Project, putting together historical census data on housing and race to find patterns for use in community advocacy.
After taking WGS.231 (Writing About Race), a course offered by the Program in Women's and Gender Studies, her first year at MIT, Dogan realized there was a lot of crosstalk between urban planning, computer science, and the social sciences.
"There's a lot of critical social theory that I want to have background in to make me a better planner or a better computer scientist," says Dogan. "There's also a lot of issues around fairness and participation in computer science, and a lot of computer scientists are trying to reinvent the wheel when there's already really good, critical social science research and theory behind this."
Data science and feminism
Dogan's first year at MIT was interrupted by the onset of the Covid-19 pandemic, but there was a silver lining. An influx of funding to keep students engaged while attending school virtually enabled her to join the Data + Feminism Lab to work on a case study examining three places in Philadelphia with historical names that were renamed after activist efforts.
In her first year at MIT, Dogan worked several UROPs to hone her own skills and find the best research fit. Besides the West Philadelphia Land Project, she worked on two projects within the MIT Sloan School of Management. The first involved searching for connections between entrepreneurship and immigration among Fortune 500 founders. The second involved interviewing warehouse workers and writing a report on their quality of life.
Dogan has now spent three years in the Data + Feminism Lab under Associate Professor Catherine D'Ignazio, where she is particularly interested in how technology can be used by marginalized communities to invert historical power imbalances. A key concept in the lab's work is that of counterdata, which are produced by civil society groups or individuals in order to counter missing data or to challenge existing official data.
Most recently, she completed a SuperUROP project investigating how femicide data activist organizations use social media. She analyzed 600 social media posts by organizations across the U.S. and Canada. The work built off the lab's greater body of work with these groups, which Dogan has contributed to by annotating news articles for machine-learning models.
"Catherine works a lot at the intersection of data issues and feminism. It just seemed like the right fit for me," says Dogan. "She's my academic advisor, she's my research advisor, and is also a really good mentor."
Advocating for the student experience
Outside of the classroom, Dogan is a strong advocate for improving the student experience, particularly when it intersects with identity. An executive board member of the Asian American Initiative (AAI), she also sits on the student advisory council for the Office of Minority Education.
"Doing that institutional advocacy has been important to me, because it's for things that I expected coming into college and had not come in prepared to fight for," says Dogan. As a high schooler, she participated in programs run by the University of Pennsylvania's Pan-Asian American Community House and was surprised to find that MIT did not have an equivalent organization.
"Building community based upon identity is something that I've been really passionate about," says Dogan. "For the past two years, I've been working with AAI on a list of recommendations for MIT. I've talked to alums from the '90s who were a part of an Asian American caucus who were asking for the same things."
She also holds a leadership role with MIXED @ MIT, a student group focused on creating space for mixed-heritage students to explore and discuss their identities.
Following graduation, Dogan plans to pursue a PhD in information science at the University of Washington. Her breadth of skills has given her a range of programs to choose from. No matter where she goes next, Dogan wants to pursue a career where she can continue to make a tangible impact.
"I would love to be doing community-engaged research around data justice, using citizen science and counterdata for policy and social change," she says.