The Difference Between a Living Wage and Minimum Wage
Image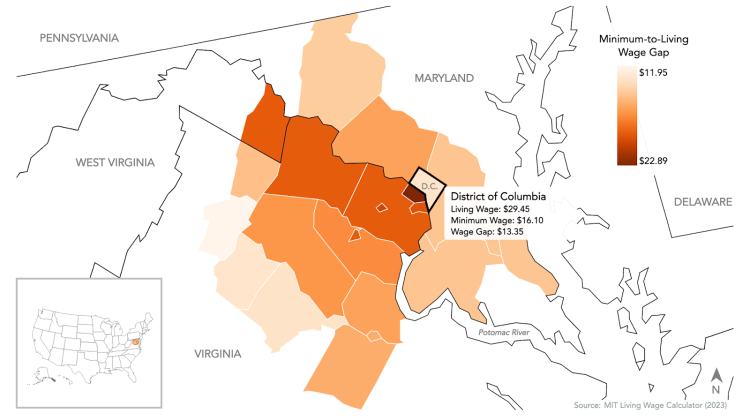 Published
February 17, 2023
Discussions and concerns about inflation abounded in 2022. Near historic price increases in basic necessities such as food and energy have centered around controlling inflation but should the discussions also include the gap between a worker earning a minimum wage versus what they would need to earn to make a living wage?
Amy Glasmeier's Living Wage Calculator (LWC), leverages county specific cost-of-living data to estimate the wages a worker must earn to cover their basic living costs such as food, mobility, healthcare, and housing.Twenty-one states began 2021 with higher minimum wages, while the federal minimum wage was last increased in 2009. "The figure below highlights just how large the gap is between the federal minimum wage of $7.25 per hour and the national living wage for all family types present in the LWC in 2023," said Glasmeier.
Currently, 30 states and Washington D.C. have minimum wages above the federal minimum wage. The highest minimum wage in any state in the US is $16.10 – in Washington D.C. – and it is just over half of what an individual would need to earn to even meet their family's basic needs living in that metro area. The map below further visualizes the gap between the state (or sub-state) minimum wage and each county's living wage for a family of two working adults and two children in the D.C. metro area, with darker colors indicating a bigger gap.
"Inflation has increased by almost 62% over the 20 year period that the Living Wage Calculator has been publicly available. The gap between the average living wage - $25.02 per hour - and the regulated minimum wage - $7.25 - continues to grow," said Glasmeier. "We designed and updated the LWC to be used by individuals, families, companies, governments, and policymakers - all types of organizations seeking to close this gap. Whether helping people personally advocate for fair pay,  providing evidence for legislative change, or even setting the context for the impact of inflation today, the Living Wage Calculator is a publicly available driver of change."
Access the Living Wage Calculator with new data