Congratulations to the Class of 2023!
Image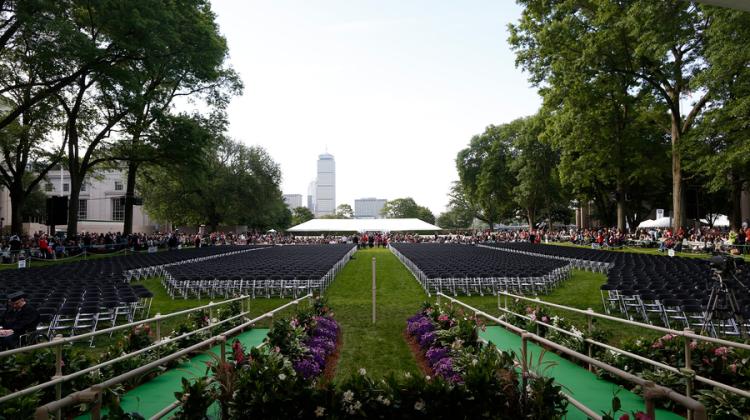 At the Departmental Commencement Celebration on May 31st, 2023, DUSP celebrated the achievements and accomplishments of graduating class of 2023.
The commencement keynote speaker was Leslie Jonas, a co-founder and the vice-chairwoman of the Native Land Conservancy. Jonas is a native of Cape Codd and an eel clan member of the Mashpee Wampanoag Tribe. She is an experienced senior planning and grants development strategist with a demonstrated history of working in tribal governments and non-profits in senior level administration and planning. She is skilled in management, communications, client relations, and non-profit work, specifically indigenous land conservation management with a focus on climate change, and cultural preservation of lifeways. 
During the past few years, Jonas has been researching and focusing on Climate Change from the Indigenous Perspective. Currently, this work has led to her co-teaching and co-advising environmental courses in social/environmental justice at UMASS Boston and MIT, speaking publicly on Climate Change, cultural respect and environmental self-determination while producing educational video tools for audiences across many disciplines. In 2021, she was invited to sit on the Conservation Law Foundation (CLF) Advisory Board for the state of MA where she helps to advocate for human rights to land and clean water in MA with teams of CLF environmental experts. She recently was chosen as a Keystone Cooperator/Fellow by UMASS Amherst to join "Women on the Land" in the Fall where community opinion leaders come together for a 3-day retreat which focuses on forest ecology and management, wildlife management, invasive plants/insects, and land protection.
The Native Land Conservancy is a Native-run land conservation group with a mission to preserve healthy landscapes for all living things and help restore land back to its original state wherever possible. The organization draws upon our collective traditional cultural knowledge as indigenous people with generations of direct experience in the woodlands, coastlines, and waterways of New England.
After the commencement speeches, the following year-end awards were announced at the event:
Departmental Awards
Outstanding Undergraduate Thesis: Natasha Karolina Hirt, Urban Scale Structural Modeling as a Tool for Reducing Embodied Carbon in Planning, Policymaking, and Design
Outstanding MCP Thesis: Maria Jimena Muzio, Understanding Housing Supply under Stringent Energy-efficiency Regulations
Flora Crockett Stephenson Writing Prize: Asya Aizman, Get Rid of Rats, Roaches and Rubin! A Comparative Study of Boston Rent Control Advocacy Discourse, from the 1960s to Present Day
Outstanding PhD Dissertation: Rounaq Basu, Planning Sustainable Cities: Coordinating Accessibility Improvements with Housing Policies
Outstanding PhD Dissertation (Honorable Mention): Arianna Salazar-Miranda, Building Sustainable and Inclusive Cities: Analyzing the Impact of Planning Paradigms in the US
AICP Outstanding Student: Sarah Kalish
Simha Prize: Sahithi Madireddy
Rolf R. Engler Award for Outstanding Service: Peggy Bryan
DUSP Student Council Awards
Excellence in Teaching: Eric Robsky Huntley
Excellence in Teaching by a Teaching Assistant: Sebastian Sandoval Olascoaga
Excellence in Advising:  Justin Steil
Staff or Faculty Contribution to Student Life: Ezra Haber Glenn
Hebbert Award for Student Contribution to DUSP: Ana Maria Perez
The 2022-2023 Thesis and Dissertation Booklet, which provides an overview of the research efforts of the class of 2023 is available online, here. 
Congratulations to the entire 2023 graduating class!