Advancing Environmental Justice
Image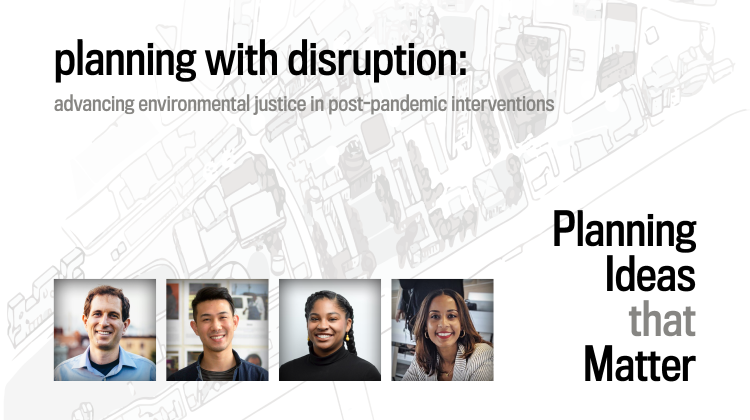 Justin Steil and Sam Jung (MCP '17) join hosts Tiffany Ferguson (MCP '18) and Samra Lakew (MCP '20) to explore the interconnectivity of environmental justice and spatial inequality.
Steil is an associate professor at DUSP whose research analyzes how power and inequality are created and contested through control over access to particular places. As a lawyer and urban planner, his scholarship disentangles how the structure of local governance and land use law interacts with housing policies to shape the spatial structure of our social world in ways that produce economic and racial inequality. He also analyzes how zoning and housing policies can be redesigned to increase equality of access to resources and advance racial justice. Recent scholarship has focused on the relationship between space, power, and inequality in three main areas: 1) environmental justice, especially the intersection of housing and climate change related disasters; 2) affordable housing and housing discrimination; and 3) local governance and land use regulation.
Jung is the Deputy Director of Inclusive Economic Development and Business Innovation at the Office of the NYC Deputy Mayor for Strategic Policy Initiatives. He co-leads the development of initiatives that address the racial wealth gap driven by the economic power of entrepreneurs, workers, and communities. This includes programs and policies to scale the practice of employee ownership and shared ownership models that created enduring value for communities of color. While studying at DUSP, Jung studied climate adaptation and mitigation strategies at the intersection of community and economic development, environmental policy, and urban design.
The second season of the Planning Ideas that Matter (PITM) podcast focuses on how the global COVID-19 pandemic changed and re-shaped the field of urban planning across pedagogy, research, and practice.
PITM is produced by DUSP and Dave Lishansky of David Benjamin Sound through the generous support from Bemis Funding and Dean of the MIT School of Architecture and Planning, Hashim Sarkis.