Technical Officer at the Environmental Management Authority, Trinidad and Tobago, where she is responsible for the management and regulation of noise pollution through the development of programs and policies aimed at balancing the impacts on the receiving environment with economic and social activities. Previous work experience with local private sector and multi-national organizations involved monitoring, sampling and analysis of environmental and social parameters and preparation of documents for environmental permits for infrastructural and other developmental projects in Trinidad and Tobago.   
Holds a B.Sc. in Environmental and Natural Resources Management, University of the West Indies, St. Augustine, an M.Sc. in Environmental Science and Management, University of Trinidad and Tobago and is currently finalizing an M.Sc. in Geoinformatics at the University of the West Indies, St. Augustine.  
At MIT, Nadia is interested in learning more about environmental planning, smart cities, and public policy.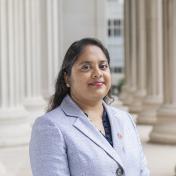 Home Country
Trinidad and Tobago
Contact
Write me
ntewarie@mit.edu