Lawrence Siddhartha Benninger
Director of the Institute for Sustainable Development, of the Centre for Development Studies and Activities, Pune, India. Responsible for initiating and implementing various urban and regional planning projects and initiatives that include the Quantified Cities Movement; and also manages the Alliance for Resilient Cities which is supported by UNICEF India. Has worked for 15 years as a regional planner and teaches the urban and regional planning lab at CDSA. Experience as a planner, trainer and researcher with various national and regional governments as well as multilateral organizations in the Indian subcontinent; and in various sectors that include urban and rural resilience, disaster risk reduction, climate action, youth participation in governance, capacity building of government functionaries and creating integrated development plans in the rural and urban context. 
Hols a Bachelor of Arts in Economics from Fergusson College, Pune; and Master of Arts in Development Planning and Administration from the University of Pune.
During the fellowship, aims to be exposed to and learn the way of thinking and problem solving that is unique to MIT.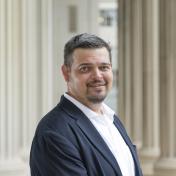 Contact
Write me
ganapati@mit.edu