Understanding Adaptations to Planned Urban Grids
Image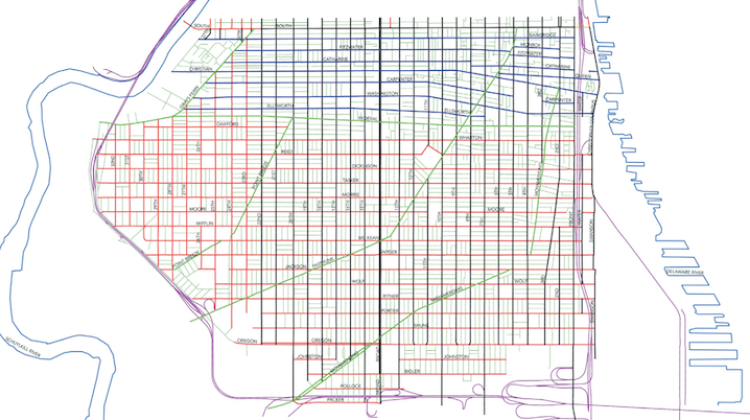 Urban grids, the orientation of urban form along intersecting city blocks at right angles, are common throughout the Americas for structuring urban environments. How do changes in how we use and interact with the spaces defined by urban grids cause them to adapt from their original designs and morph over time?
In a new article for Urban Morphology, DUSP's Brent D Ryan and Elaine Wang utilize Philadelphia, PA as a case study for how urban grids change from their original plans to adapt to new constraints and opportunities within a city. The paper identifies Philadelphia as the leading example of an urban grid that evolved and adapted over time to maximize housing diversity and affordability, offering valuable lessons for the provision of these needed amenities in cities today. The paper leverages qualitative and quantitative methods to map changes and understand the underlying causes under these modifications.
"Philadelphia's grid is special because of its flexibility, having retained and evolved from William Penn's original plan for the city in 1683. We looked at how the Penn grid was first adapted by introducing new streets to allow for denser development, and how it was later expanded to accommodate the city's huge population growth in the early 19th century," said Wang. "We found that the expansion grid was innovative itself. It became more regular than the Penn grid, and created a new scalable framework for rowhouse development that allowed for diverse housing options within a single block"
Ryan is an MIT Associate Provost and the Professor of Urban Design and Public Policy at DUSP. His research focuses on the aesthetics and policies of contemporary urban design, particularly with respect to current and pressing issues like deindustrialization and climate change. Prior to joining MIT, Professor Ryan taught at the Harvard Graduate School of Design and the University of Illinois at Chicago, where he was also Co-Director of the City Design Center. 
Wang is a Master of City Planning candidate at DUSP whose work focuses on creating data tools to measure and design more sustainable cities. Taking part in MIT's DesignX and delta v accelerators, she co-founded Jane, a software platform that aims to help homeowners convert their homes to net zero. Prior to studying at DUSP, she was a product manager at Sonder, where she helped build and launch data products.
"Philadelphia's Penn grid has been widely studied by historians, the morphology and the  evolution of the city's grid has been much less so," said Ryan. "Changes to settlement patterns, evolving demands for density, and changing social and economic needs, together with new methods of mobility motivated adaptations and tertiary street expansions. The planning and design of these modifications impacts how current Philadelpians experience the urban environments today, and offers critical lessons for urban designers and planners seeking to add diverse and adaptable housing models to today's cities."
Read "The flexible urban grid: adaptation, expansion and evolution in Philadelphia's city block morphology"