Image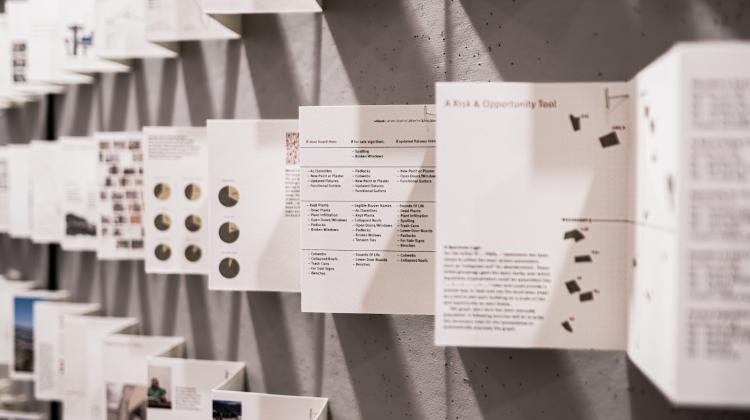 Published
February 20, 2023
Rebuilding the Edge is an exhibition which highlights a collaborative workshop conducted in Italy, over three weeks, in Abruzzo and Molise to develop visions for the territories around the Ferrovia dei Parchi, a rail line rehabilitated in the last decade by Fondazione FS. MIT student participants were asked to think about mobility challenges in the region, opportunities for ecotourism in natural reserves, adaptive reuse strategies for underpopulated towns, land use strategies to recover agricultural districts, and migrant integration models. Participants lived in the depopulated town of Pettorano sul Gizio and worked from the disused Roccaraso railway station, transformed into a pop-up co-working for the occasion. The workshop was a collaboration between Liminal, Fondazione FS, MIT-Italy Program (Dr. Serenella Sferza), Urban Risk Lab, Digital Structures, and several municipalities from the Valle Peligna. The exhibition, featuring the work process and designs produced during the workshop, is on view at MIT Architecture's new HQ Gallery through the month of February. 
The work presented in the exhibition is the result of the fieldwork and stakeholder engagement pursued throughout the entirety of the workshop. Liminal focused on setting up the conditions for students to understand the opportunities and criticalities present on the territory, from which students formulated their assessments and developed preliminary proposals that they considered had the potential for catalytic socio-economic impact. Participants were asked to document and analyze their sites of interest, perform stakeholder interviews, and propose tangible solutions for the territory and its corresponding communities.
The exhibition is composed of six booklets that contain the work produced by each group according to a specific issue/site of focus, as well as a seventh booklet describing the overall initiative itself. While the workshop is the result of a first intensive approximation to the territory and its stakeholders, the reflections and ideas contained within these booklets have already provided valuable insights to the project beneficiaries. Liminal continues to work with key stakeholders to promote the visions developed throughout the workshop and construct concrete opportunities for implementation. 
The exhibition was produced and curated by Liminal, DUSP's Sarah Lohmar (SB '22), Angela Loescher-Montal (MArch '23), Adriana Giorgis (MArch candidate 2024). The Liminal team includes Ginevra D'Agostino (March '22), Nicolas Delgado Alcega, DUSP's Ph.D. candidate Carmelo Ignaccolo, Elena Militello, Gabriele Pizzi and Chiara Romano Bosch. The exhibition team extended special thanks to Nicholas De Monchaux, Miho Mazereeuw, Caitlin Mueller, John Ochsendorf, and Serenella Sferza. HQ Gallery exhibition team included: Amanda Moore, Joél Carela, and Jim Harrington.
Additional inquiries may be addressed to: 
Amanda Moore or Chiara Romano Bosch