New Urban Planning Collaboration in Stockholm
Image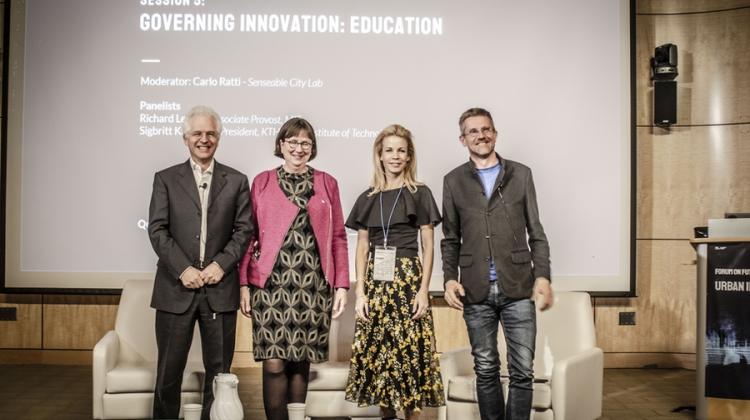 Source
https://news.mit.edu/2019/mit-kth-launch-research-collaboration-urban-planning-development-stockholm-sweden-0516
MIT and KTH Royal Institute of Technology, Sweden's leading technological and engineering university, have announced a research collaboration focused on urban planning and development in Stockholm, Sweden.
The KTH-MIT Senseable Stockholm Lab will use artificial intelligence, big data, and new sensor technologies to help the city evolve into a more livable and sustainable metropolis. The City of Stockholm is part of the collaboration, which will commence work this spring and is planned to span five years.
The announcement was made during the recent 2019 Forum on Future Cities at MIT, a conference produced in association with the World Economic Forum's Council on Cities and Urbanization.
The initiative will be led at MIT by Carlo Ratti, professor of the practice in MIT's Department of Urban Studies and Planning and director of the MIT Senseable City Lab.
"We want to use Stockholm as a test bed to explore what it means to be a 'smart' city, and to better understand how new ways of analyzing data can create an urban experience that helps people, institutions, nature, and infrastructure better connect," says Ratti.
As part of the collaboration, researchers from KTH and MIT will work together to gather and analyze vast quantities of data tied to topics such as transport, mobility, energy, and water supply. They will give particular focus to the challenges that Stockholm faces as it strives to balance technological development, sustainability, and growth. 
"This groundbreaking collaboration will provide both institutions with a rare opportunity to do research on cities that is of global importance," says MIT Associate Provost Richard Lester, who oversees MIT's international activities. "We greatly appreciate the opportunity to work with our colleagues at KTH and in the City of Stockholm on developing new insights and new data-based tools that will make cities more sustainable and livable."       
The collaboration will be organized around the concept of co-creation, with researchers in architecture, urban planning, engineering, and computer science from both universities working in tandem to exchange ideas, determine research priorities, and assess the city's needs. 
"It is fantastic that we are starting such a broad, systematic, and long-term cooperation," says Sigbritt Karlsson, president of KTH. "This type of interdisciplinary and international collaboration is very valuable. The collaboration between two leading universities of technology, together with the City of Stockholm, with an extensive amount of data already available, is unique in its concept, and through a well-developed partnership we see that this can lead to new types of cooperation in the future. "
The collaboration between MIT, KTH, and Stockholm offers a unique opportunity for the city — the fastest-growing capital in Europe — to develop and build a smart city. This collaboration will give Stockholm new potential to create a sustainable city for the future, says Stockholm Mayor Anna König Jerlmyr.
The new lab's first project will focus on urban segregation — that is, how people from varied economic and cultural groups have unequal access to a city and its benefits. Both MIT and KTH have already done extensive research in this area, on which the new collaboration will build. 
The collaboration is formally structured as a consortium between the founding partners KTH, MIT, the city of Stockholm, the Stockholm Chamber of Commerce, and the Newsec Group (a Swedish real estate company). The vision for the future is to expand the collaboration and scale up the research.
The KTH-MIT Senseable Stockholm Lab was formally launched in Sweden in March at a ceremony in Stockholm's City Hall, with Mayor Jerlmyr, President Karlsson of KTH, and the CEO of the Stockholm Chamber of Commerce in attendance.