Integrating Informal Settlements
Image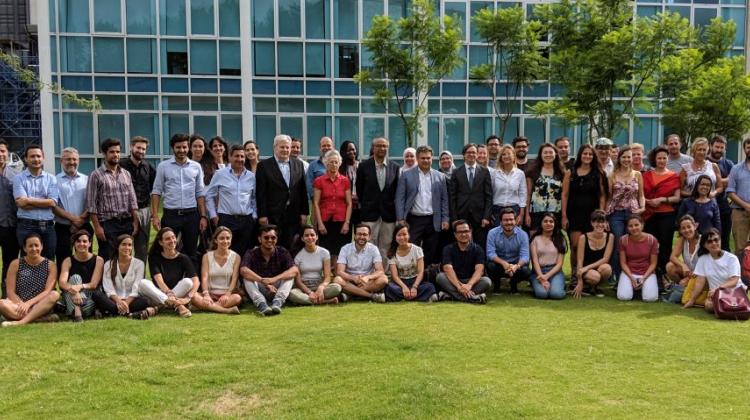 Published
February 8, 2019
Led by two faculty members, a group graduate students and mid-career fellows from MIT's Department of Urban Studies & Planning (DUSP) and the Special Program for Urban and Regional Studies (SPURS) traveled to Buenos Aires for a week during IAP at the invitation of the Buenos Aires provincial government. Their objective: To conduct an in-depth study on how to integrate informal settlements into the formal urban fabric of Metropolitan Buenos Aires. Leveraging experience and local knowledge, back in Cambridge this semester, the MIT team is designing programs and policies that can improve livelihoods, create economic opportunities, affordable housing, and safe communities for local residents.
The trip was part of a year-long course on challenging the conventional understanding of urban informality led by Bish Sanyal, Ford Professor of Urban Development and Planning, and Louise Elving, a DUSP Lecturer with experience in affordable housing. The course utilizes the expertise of the sixteen 2018/19 SPURS/Humphrey Fellows, many of whom bring years of applied experience with urban informality as architects, planners, academics, and public officials in their home countries such as Bahrain, Uruguay, Angola, the Gambia, Mexico, Colombia, Pakistan and Egypt. "When the Buenos Aires Metropolitan Area government approached us to seek advice on how to upgrade informal settlements, I immediately thought it would be worthwhile to harness the knowledge of these urban practitioners. I also thought that our effort would benefit from uniting the work of fellows with that of graduate students, who could, in turn, learn from one another," said Sanyal.
Metropolitan Buenos Aires is in the initial phase of implementing a new effort to upgrade multiple, typically resident-built, informal settlements and provide better links for them into the entire urban fabric through a recently created Urban Integration Policy. The provincial government has identified eight prototypical informal settlements around the metropolitan periphery to improve with innovative projects that, if successful, can be scaled up throughout the region.
Responsible for coordinating both planning and program implementation is the newly-formed agency Organismo Provincial de Integración Social y Urbana (OPISU). The agency is led by Executive Director Milagros Maylin, who has high hopes for the collaboration: "We are excited to have gained MIT and this group's support. We expect that our cooperation will produce innovative and feasible initiatives to make these settlements safer, more livable and healthier for their residents. And we hope that our efforts will also lead to creation of new employment and provide entrepreneurial opportunities which would improve the livelihood of the local population." The MIT group is focusing on two adjacent settlements, Costa Esperanza and Costa de Lago, which are located in close proximity to the major solid waste disposal site for the entire metropolitan area and established neighborhoods in the municipality of San Martin.
Prior to the IAP trip, course participants worked on theoretical concepts regarding inclusive public space, safety and design; local economies and livelihoods; housing design and finance; land regularization and titling, as well as organizational design and urbanization management practices. The trip to Buenos Aires refined these theoretical models by providing local context of the realities of these diverse settlements. OPISU arranged multiple local visits for MIT team members who spoke with leaders in neighborhood-based community centers and local waste picker cooperatives; large public organizations that impact the community such as the regional waste management company Ecological Coordination Metropolitan Area State Society (CEAMSE) and Comite de Cuenca del Rio Reconquista (COMIREC), a government agency charged with remediating the nearby heavily polluted Rio Reconquista river. Barrio 31, a neighborhood in the heart of Buenos Aires, has benefited substantially during the past decade from significant public investments in housing, safety, infrastructure and job training – demonstrating the possible opportunities for integration and public investment in other informal communities.
There were many surprises for the fellows and students. "I was really surprised by the existing public spaces. Usually, in informal settlements, you don't have enough space to provide services. In the case of Costa Esperanza, there is this potential," noted Asmaa Ibrahim, a SPURS/Humphrey Fellow from Egypt and Professor of Urban Development in Cairo University.
Visiting two waste sorting facilities, enhanced MCP candidate Haily Tran's picture of the power of community solidarity: ""The most informative visits were those to two different recycling cooperatives, which were more formal than what I had imagined. I knew that there was an economy built around waste, but my conception of how these people work was quite single dimensional. It was insightful to learn about the history, how their development paths diverged, and how that led to different challenges for expansion. This was key because now we know the diversity of needs and constraints."
Multiple meetings with faculty and urban researchers from both the University of Buenos Aires and University of San Martin deepened the MIT team's understanding of issues in the metropolitan area. Building on their observations and discussions in Buenos Aires, the students and SPURS/Humphrey Fellows will develop detailed recommendations over the Spring 2019 term in their joint seminar. These recommendations will be presented to the Buenos Aires Metropolitan Area government on May 6, 2019 in a colloquium at MIT. After further deliberations at this meeting, a final report will be submitted to the government and other Buenos Aires stakeholders in the summer.
Reflecting on the IAP study trip, Bish Sanyal is enthusiastic: "I am grateful that we were given this learning opportunity by OPISU and the provincial government of Buenos Aires. Drawing on the field trip, the fellows and students will now work together to propose some solutions which are efficient, equitable and implementable. This exercise will allow the students to synthesize their understanding of various substantive problems, such as housing, employment, or environmental degradation. It will also sensitize the students to organizational constraints as well as possibilities which are central to any planning effort. Most importantly, this exercise will create reflective practitioners who are intellectually curious and flexible in their approach to problem solving."