Documenting the Inequity of Air Pollution Health Impacts
Image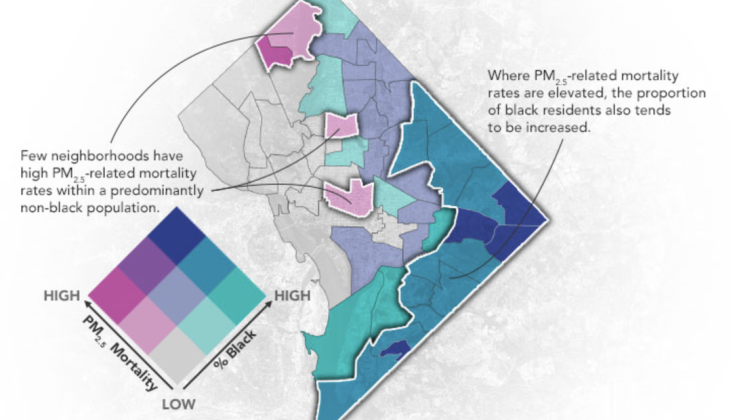 Published
January 23, 2023
When one thinks of air pollution's impact on public health, there is a popular misconception of a fairly evenly distributed effect across a geographic region. High resolution data on particulate matter (PM2.5) pollution levels and disease rates demonstrates that inequities in air pollution exposure and linked health risks are persistent and uneven across neighborhoods and populations within a single city. 
In a paper for GeoHealth, a team of researchers utilizes satellite remote sensing and enhanced granularity in data for disease rates in Washington DC to demonstrate the links between particulate matter-attributable disease burdens with neighborhoods with larger proportions of people of color, lower household income, and lower educational attainment. 
"Exposure to PM2.5 and rates of certain health problems were highest in the southeastern, southwestern, and northeastern quadrants of the city—areas that have historically been marginalized," said Maria Castillo, lead author of the paper and current DUSP MCP student. "This paper adds to a growing body of evidence documenting basic inequities in who is affected by air pollution."
The research team included Castillo as well as Boston University's Patrick Kinney, George Washington University's Veronica Southerland and Suan Anenberg, District of Columbia Department of Health's Anneta Arno, District of Columbia Department of Energy and Environment's Kelly Crawford, and Washington University in St. Louis' Aaron von Donkelaar, Melanie Hammer, and Randall Martin.
Read coverage by National Aeronautics and Space Administration's (NASA) Earth Observatory and by Advancing Earth and Space Science (AUG)