Distinguished Educator Award at ACSP 2022
Image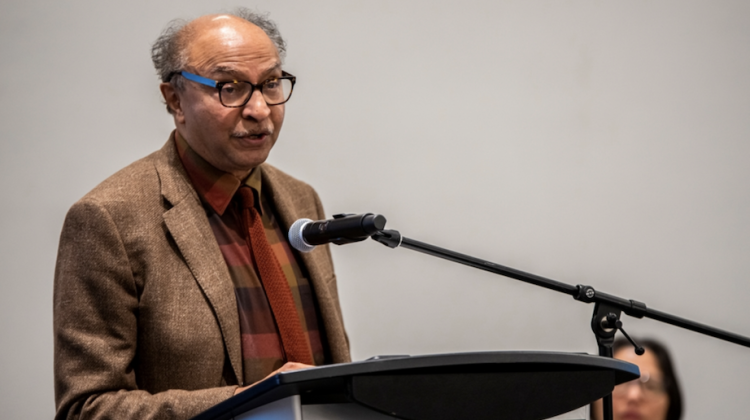 Published
December 21, 2022
At the Association of Collegiate Schools of Planning's (ACSP) 2022 annual conference in Toronto Bish Sanyal was honored as the ACSP's 2021 Distinguished Educator.
"When word got out that the Department of Urban Studies and Planning (DUSP) at MIT wished to nominate Bish Sanyal for the ACSP's Distinguished Planning Educator award, the response was immediate and viral. As the department colleague who volunteered to manage this process, it was both gratifying and overwhelming to see how many people wanted to have their voices included in nominating Bish in recognition of his 37-year-long professorial career," wrote the School of Architecture and Planning's Associate Dean, Lawrence Vale. "Authors of letters of support viewed this as an opportunity to express profound gratitude for the personal and professional contributions made by a treasured colleague and mentor who has provided trans-career support to so many. I am struck, above all, by their eagerness to give back through what they write—they clearly viewed the challenge of composing their letters as an 'honor.'"
The Distinguished Educator award, initiated in 1983, is presented every other year in appreciation of significant scholarly, teaching, service, and practice contributions to the field of planning. Awardees are selected from candidates who are nominated by ACSP members.
At the award ceremony presenters noted, "Sanyal's nomination was supported by 21 letters, including from several current chairs of ACSP departments, two past ACSP presidents and other past ACSP award winners, as well as from former students, junior faculty members and current students. His work is consistently cited as creative, influential, and transformative—breaking new ground and shaping international debates. He is recognized not only for the quality and insight of his work, but also the way it is framed and the process by which it is often iteratively and collectively developed. Concerned about too much focus on failure and what goes wrong, his inclination is to identify and explain success—how some plans and policies succeed in meeting ambitious objectives even under the most difficult of circumstances. Some of his most influential work emerged from efforts to convene and generate discussion and debate among some combination of leading scholars, junior and senior faculty, domestic and international actors, and scholars and practitioners."
Sanyal is the Ford International Professor of Urban Development and Planning and Director of the Special Program in Urban and Regional Studies (SPURS)/ Hubert Humphrey program at the Massachusetts Institute of Technology. His teaching, research, and leadership reflect his multidisciplinary education and diverse professional practice experiences. He is the founding member of the Global Planning Education Interest Group (GPEIG), which centers a comparative perspective on planning and development based on a nuanced appreciation of and respect for, cultural, economic, and socio-political dimensions of planning practices and processes taking shape around the world.
Sanyal's MIT leadership service includes serving as Department Head for DUSP ('94-'02) and as Chair of the MIT Faculty ('07-'09). Sanyal's additional recognitions include the MIT's MacVicar Faculty Award (2011), the Center of Developmental Studies' Gill-Lim Award (2018), and ACSP's inaugural award for Outstanding Service in Global Planning Education (2016). 
"Advanced learning requires a different kind of setting in which the surety of knowledge and the false confidence it conveys should be discarded to evoke apprehension and doubts about what we think we know about cities and urban planning," said Sanyal in his acceptance speech. "Whether it is market orthodoxy or marxist structural critiques of capitalism and many other ideas in between these two extremes, none should be spared doubts and critical inquiry if the goal is not to preach but instead to better understand and continuously learn."
Sanyal joins three other members of the DUSP faculty who have been named a Distinguished Educator: Lawrence Susskind (2005), Lisa Peattie (1999), and Lloyd Rodwin (1997).