Christina Last Named a AGU Grand Prize Winner for Data Visualization
Image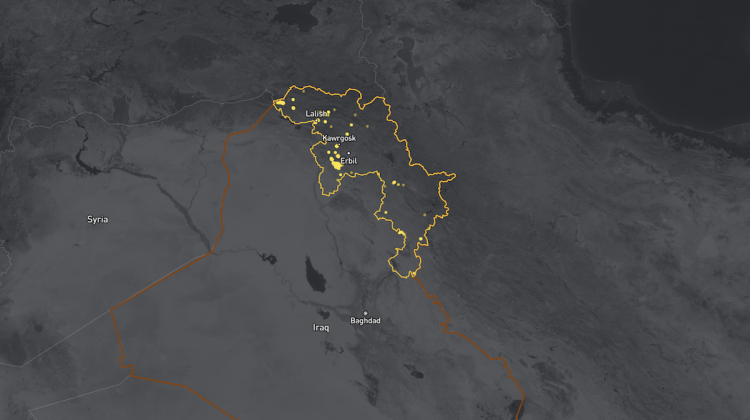 Published
December 14, 2022
Gas flaring, the ignition and burning of natural gasses linked with oil extraction, is a common occurrence at oil fields around the world. Flares are often a method of disposing of excess gas that cannot be transported or sold and have been marketed as a method to reduce greenhouse gas emissions by combusting the gasses before they can escape into the atmosphere. A recent study in Science found that methane emissions linked with flares are five times higher than currently thought and may do nothing to burn off the methane plumes they seek to target.1 
But how does one measure flaring and its impact in difficult to study areas - such as Russia and Iraq? How does flaring impact proximate communities? And how much progress are governments making to their commitments to phase-out flaring?
These questions center DUSP's Christina Last, Tom Brown, Alannah Travers, and Stella Martany's investigative work, Choking Kurdistan, which documents the environmental and health costs to ethnic minorities in northern Iraq. Last's data visualizations for Choking Kurdistan was recently recognized by the American Geophysical Union (AGU) as a grand prize winner of the Michael H. Freilich Student Visualization Competition. Last's visualizations leveraged data from the VIIRS Nightfire, filtered for specific temperature ranges, cross referenced with NASA Imagery, and corroborated with data from Open Street map and Open Infrastructure map. 
"We increasingly understand the environmental and health risks posed by flares but some regions are difficult to monitor in-person. This project explored if we could use remote sensing techniques combined with machine learning to identify flares, to assess if the Kurdistan regional government were likely to meet their target of removing flaring completely by 2023. So far, they are off target to complete their goal," said Last. "This project also served as an opportunity to educate communities in the Kurdistan region of the impact of industrial polluters on the climate crisis. The local language (Kurdish) has no direct translation for the phrase 'climate change', so our story about the impact of flares on the surrounding communities and the environment needed to be understood through the data visualizations we developed."
Last is a Master of Science student in DUSP at MIT as well as a Fulbright Fellow and a Legatum Fellow. Her work focuses on developing data science tools to measure the impact of climate and air pollution using open geospatial data. Prior to studying at DUSP, she was a research engineer at the United Kingdom's Official institute for Artificial Intelligence, where she specialized in improving open-source machine learning research. Last has led various international research projects, most recently as a senior data scientist collaborating with United Nations International Children's Emergency Fund (UNICEF) to model air quality during COVID-19 lockdowns using machine learning. 
Last, Brown, Travers, and Martany's investigative work in Iraq is supported by the Environmental Reporting Collective (ERC), a network of international journalists and newsrooms who collaboratively investigate and document environmental crimes. 
The AGU is a global community of individuals and organizations interested in advancing discovery in Earth and space sciences and its benefit for humanity and the environment through support and sharing of the endeavors of the current scientific community and via the education and inspiration of the next generation of scientists. 
The AGU Michael H. Freilich Student Visualization Competition Program provides an opportunity for students to demonstrate creative ways to use visualization to present complex problems in the Earth and space sciences as well as transdisciplinary sciences. The award comes with a cash prize to allow the winner to attend AGU, present their analysis on NASA's Hyperwall (currently at COP27 visualizing climate simulation data), and to visit a NASA site to solicit expert advice on their research from NASA scientists.
"This award is testament to the hard work the team put in, particularly to Stella, Alannah and Tom who work tirelessly in often dangerous conditions to highlight the stories of marginalized communities in Iraqi Kurdistan and federal Iraq, said Last. "This work forms part of the research driving a venture I co-founded called AQAI, where we work with UNICEF to predict the impact of air pollution on children globally. The next steps will be to understand the global implications of flaring on human health."
1. Planet et. al. "Inefficient and unlit natural gas flares both emit large quantities of methane" Science. Volume 377, Issue 6614. https://www.science.org/doi/10.1126/science.abq0385#:~:text=DOI%3A%2010.1126/science.abq0385