Centering Māori Youth Voices in Planning
Image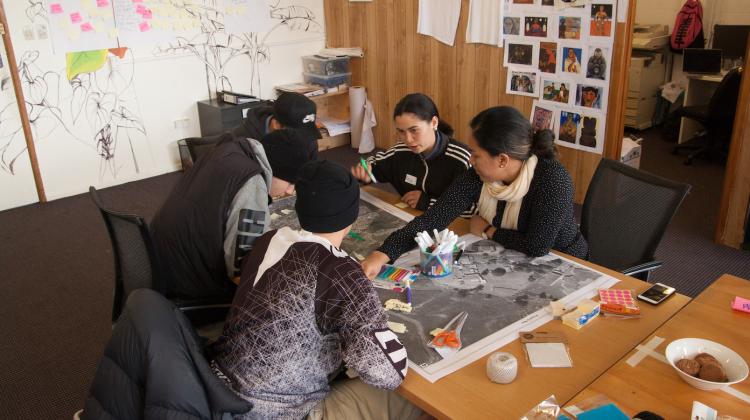 Published
February 27, 2023
How can researchers and community members from historically marginalized groups ensure they are active participants in the decisions that shape and define the places and cities they call home? Using findings from a kaupapa Māori project, a team of researchers explore how autonomy and weight in decision-making processes for the future of city form impacts rangatahi Māori (Māori youth, aged seventeen to thirty) and our understanding of current issues facing this community. Their findings are published in a chapter of Kāinga Tahi, Kāinga Rua: Māori Housing Realities and Aspirations (Bridget Williams Books, 2022).
The authors of the chapter include: DUSP's Jacqueline Paul as well as Maia Ratana and James Berghan. "A rangatahi- specific approach allows for autonomy and supports their importance in determining what services they want and need as well as how those services should be delivered," said Paul.
Kaupapa Māori is research and evaluation is done by the Māori community, with members of the Māori community, and centered on positive outcomes for the Māori. Research practices and design are informed by tikanga Māori, or Māori ways of doing things, building upon an ethical framework of mutual trust, respect, reciprocity and whanaungatanga (the cultivation and caring for meaningful relationships).
In the conclusion of their chapter Paul, Ratana, and Berghan write, "Now that we have this kōrero,1 what can we do to continue to elevate these rangatahi Māori voices so that they are heard? There is going to be a paradigm shift as barriers are broken down, because our generation is rising. It's time for us to be included, valued, guided and supported. We carry the burden of bad decisions made in the past. We can no longer allow this legacy to dictate the lives of our whānau and future generations. It is critical that we continue to support rangatahi Māori and work alongside them to respond to housing issues and contribute to shaping Aotearoa.2" 
Ratana is a descendant of Ngāti Rangiwewehi, Ngā Rauru kī Tahi and Ngāti Raukawa. She is a māmā, a lecturer at the Unitec School of Architecture and a PhD student at AUT. Her current research focuses on housing for rangatahi Māori, and considers how more innovative housing options might enable housing security for this group of young people. Her research interests also include Māori housing and communities, sustainable and innovative housing design, homelessness, and equity in tertiary education. 
Berghan (Te Rarawa, Te Aupōuri) is a lecturer in urban design at Te Kura Kairūri School of Surveying at the University of Otago. Passionate about challenging 'business as usual', his teaching and research projects survey the links between people and the built environment through a social justice-oriented, mana-enhancing equity lens. James' doctoral thesis, an exploratory study of papakāinga and cohousing, was awarded 'exceptional thesis' status by the University of Otago in 2020.
Paul (Ngā Puhi, Ngāti Tūwharetoa, Ngāti Kahungunu ki Heretaunga) is a Māori PhD student at DUSP. She holds a Bachelor of Landscape Architecture from the Unitec Institute of Technology, New Zealand and an MPhil in Planning, Growth and Regeneration from the University of Cambridge, United Kingdom. She is currently a researcher  for Pūrangakura Māori Research Centre, an independent specialist for Kāinga Ora – Homes and Communities, a technical and expert advisor for the New Zealand Human Rights Commission and has been involved with the National Science Challenge – building better homes towns and cities Māori housing research over the past 5 years.
Learn more about Kāinga Tahi, Kāinga Rua: Māori Housing Realities and Aspirations, edited by Fiona Cram, Jessica Hutchings and Jo Smith 
 
1.  Narrative, understanding 
2. Indigenous Māori name for New Zealand