Building a Better Understanding of Low-Income Mobility Access in the US
Image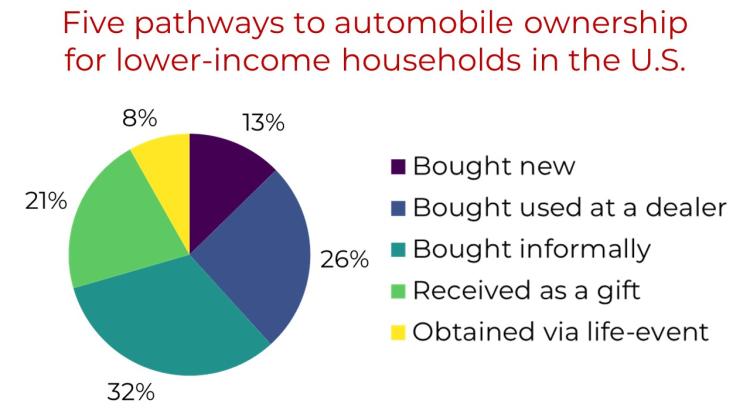 Published
August 30, 2023
Due to development patterns, for many households in the US, owning or having regular access to a private automobile is essential for mobility to access employment, opportunities, amenities, and daily necessities such as groceries and healthcare. While private vehicle ownership plays a vital role in social and economic mobility in the US, we know relatively little about the pathways utilized by low-income households to obtain access to private vehicles. A better understanding about the mechanisms and reasoning behind lower-income households' mobility preferences would allow policymakers and advocates to design targeted interventions to assist low-income households. 
In a paper for Transportation Research Interdisciplinary Perspectives, a team of researchers identifies five distinct pathways to private vehicle ownership for households with annual incomes below $40,000 USD as well as why these households needed to acquire an automobile and how they assessed ownership versus the financial hardships related to car ownership, operation, and maintenance.
Authors of the paper include DUSP Postdoctoral Associate Rounaq Basu (PhD '22, MCP '19, MST '19), as well as Nicholas Klein (Cornell) and Michael Smart (Rutgers).
Read their full paper, "In the driver's seat: Pathways to automobile ownership for lower-income households in the United States."