An Adaptation of the Traditional Use of Paper, Wood, Earth, and Concrete
Image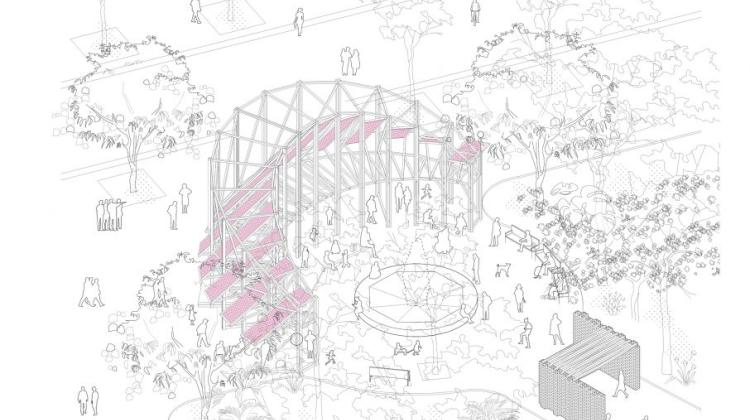 Published
September 28, 2022
Source
https://sap.mit.edu/news/mit-faculty-participate-mexico-city%E2%80%99s-mextr%C3%B3poli-architecture-and-city-festival-installation
Sueños (in English, dreams—of the past or future; a cherished aspiration, ambition, or ideal)
A participatory architectural installation created with the participation of three MIT faculty is featured in the Mextrópoli Architecture and City Festival (September 21-25, 2022), one of the largest architecture exhibitions in Latin America. The installation will be on view until October 2.
Sueños con Fiber/Timber, Earth/Concrete unfolds stories about Mexico City through four materials: paper, wood, earth, and concrete. Through its critical adaptation of traditional uses of these materials, this installation invites visitors to recognize the palimpsest of Mexico City's histories and imagine new possibilities.
Sarah Williams, Caitlin Mueller, Rafi Segal, and collaborating artist Marisa Morán Jahn have engaged  with researchers and staff from MIT's Norman B. Leventhal Center for Advanced Urbanism and community partners New Story and Échale, together with Manufactura, Anfora Studio, and Formas de Fibra de Vidrio to create the installation, which has received support from Mota-Engil, a global engineering and construction consortium focusing on civil construction, public works, port operations, waste, water, and logistics. 
The installation has been designed by architects, designers, urbanists, engineers, and artists from MIT, Mexico City, and the Latin American diaspora. In addition to the opening, a series of events will take place around the installation.
"To create civic change, the public must truly understand innovative ideas so they can advocate for them," says Sarah Williams, director of the MIT Norman B. Leventhal Center for Advanced Urbanism and the MIT Civic Data Design Lab. "Bringing research to the public through open forums similar to the Mextrópoli pavilion creates the education and debate essential for creating new policies and technologies for our cities."
The installation consists of two main pavilions:
Sueños con Fiber/Timber reflects on the past and future of Mexico City. Built from wood recycled from the city's iconic rollercoaster (La Feria's Montaña Rusa), the pavilion adapts the pre-Columbian art form known as papel picado(perforated paper), whose openings invite ancestors to pass through to the present. 
"City-making is about finding new ways to express collective memories and aspirations," says Rafi Segal, architect and associate professor of architecture and urbanism at MIT. "The Fiber/Timber pavilion uses familiar materials in a new way: salvaged wood and traditional amate paper are assembled to create a new urban space at the existing Alameda Square corner. As such, visitors experience the power of making something new out of something old."  
Sueños con Earth/Concrete explores the future of affordable housing in Mexico by minimizing the material impact of existing construction methods. This pavilion has been developed in partnership with New Story, an international nonprofit organization that pioneers solutions to end global homelessness, and Échale, a social enterprise based in Mexico that offers housing solutions through the integral development of communities.
According to Caitlin Mueller, associate professor of architecture and director, MIT Digital Structures, "We're trying to use our research and the exhibition to elevate the conversation about sustainable technology and equity. We believe technology can be applied to all building types and have a positive impact for all people.
"The aim of Sueños con Concreto y Tierra is to apply innovation and research to a problem that is not well studied in structural design. The result is a construction system and methodology that is scalable and applicable for many different contexts and communities."
About the role of art and architecture in conceiving of future cities, Marisa Morán Jahn, artist and filmmaker, says, "As a society, it's imperative that we look to the past to inform how we imagine the future. Art, architecture, and cultural traditions both contain and span millennia, enabling us to understand our world in a broader sense. 
"The opportunity to collaborate with artisans, designers, engineers, architects, and community groups in Mexico around pressing issues is absolutely reinvigorating. It introduces new ways of working and sharing resources that transform what's possible." 
Community Partners
New Story is an international nonprofit organization that pioneers solutions to end global homelessness. From a human-centered design curriculum to 3D printing to housing finance products, each innovative solution has helped more than 14,000 people achieve their dream of having adequate housing. 
For more information, visit newstorycharity.org
Press contact:
Victor Mendoza, Manager of Construction Sector Interventions
victor@newstorynext.org 
Échale is a social enterprise based in Mexico City with a mission to promote holistic development for marginalized communities. We provide quality housing solutions to underserved families through access to microcredits, innovative technology and workshops to encourage social inclusion. For over 25 years, Échale has provided around 250,000 housing solutions that have benefited more than 1 million people. For more information, visit: https://echale.mx/
Press contact: 
Fernanda Herrejón Aragón, Business Development Manager
fernanda@echale.com.mx
In collaboration with: