20 Years of Mapping the [In]visible
Image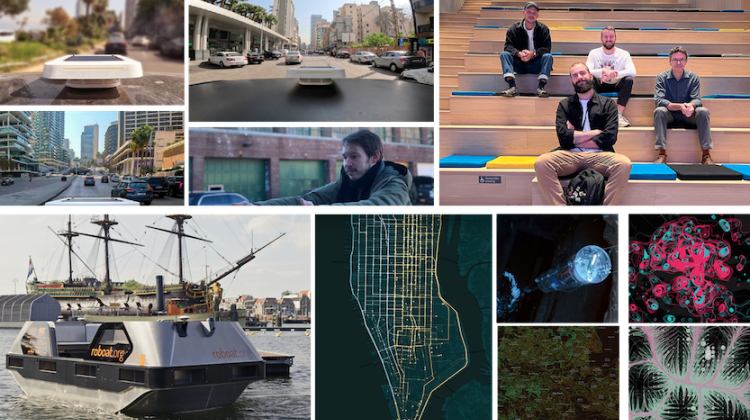 Published
September 22, 2023
Think back 20 years ago. Most individuals used mobile phones with no internet capabilities, multimedia was often consumed over DVDs, the number of desktop users still outranked laptop users, and social media and high-speed internet were still in their infancy. We often consider the intensity and speed at which technology has transformed as a distinctly digital transformation, yet as technology advanced, digital spaces have increasingly become intertwined with our physical world. Consider how you may have used your smartphone to check air quality during the multiple wildfires this summer, rely upon smartwatch data to measure and plan your exercise activities, or how many city governments are using wastewater data to track Covid infection rates.  
The year 2023 marks the 20-year anniversary of the MIT Senseable City Lab's (SCL) ongoing efforts to better understand the evolving relationship between the physical and digital worlds to reflect on ​​the social, ethical, and scientific aspects of our cities. "The lab was founded on the MIT tradition of constantly innovating how we use technologies to understand urban phenomena and to promote better cities. After 20 years working across the globe, we are now expanding SCL's footprint in Amsterdam, Stockholm, Singapore and Dubai, combining data-driven research with on-the-ground experience," says Carlo Ratti, director and co-founder of Senseable City Lab. 
Mapping the [In]visible, a new exhibition at the MIT Museum, celebrates SCL's 20th anniversary by showcasing their work using data to understand how people and objects interact and navigate through urban environments. Examples of SCL's work mapping social connections across space and time, highlighting cities' hidden infrastructure to enhance our understanding of our world with innovative ways of seeing through data.
"The exhibition brings together a sample of the technological devices and data visualizations the lab has produced over the years. Conveying powerful scientific ideas in highly engaging ways, through data visualization and science storytelling, is a trademark of the Lab, and help us to engage communities to work together to improve their cities," says Fábio Duarte, principal research scientist in Senseable City Lab.  
The exhibition opens to the public today, Friday September 22nd. More information can be found via the MIT Museum.